The DHE twinning REHAB-LAB-4U has already allowed the transfer of self-designed 3D printed assistive devices to 3 adopters with different maturity levels. Further adopters are underway.
The DigitalHealthEurope (DHE) twinning REHAB-LAB-4U focuses on the scaling up of REHAB-LAB, a fabrication laboratory integrated in a healthcare organisation where people with disability can design their own assistive devices using 3D printing. This person-centered care innovation using digital tools is promoted by Centre Mutualiste de Rééducation et de Réadaptation Fonctionnelles de Kerpape (the twinning originator), one of the biggest rehabilitation centers in France and the only one with an electronic laboratory inside and staff dedicated to the REHAB-LAB initiative. Since 2016, a REHAB-LAB is in full operation and transfer has been completed to several institutions in France.
The objective of the​ REHAB-LAB-4U twinning was two-fold. First, it transferred the REHAB-LAB innovative concept to 3 other European locations:
City of Aarhus (Denmark)
University Hospital of Liège (Belgium)
University of Modena (Italy)
Second, the twinning launched a collaborative IT platform to enable long-term collaboration. The global objective in the middle/long term is to enlarge the community with additional partners from all over Europe.
In January 2020, the initiative kicked off in Brittany at the Kerpape Rehabilitation Center with a first training gathering project partners from Italy, Belgium, and Denmark. A 3-days training session "Fundamentals" for 2 people was taught to the future REHAB-LAB manager and one occupational therapist or other healthcare professional from each partner.
Between training sessions, Kerpape consulted the adopters to reach a full implementation of the REHAB-LAB with equipment (3D printer, scanner, adapted computer for CAD, materials funded by the adopter) and activity deployment with citizens/patients (based on existing equipment and infrastructure).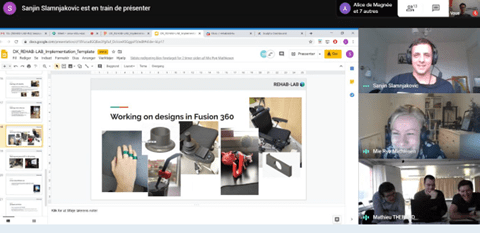 Despite the different backgrounds and cultures of the adopters related to their national context, a common charter has been defined and shared to provide a framework to share values and processes notably about citizen/patient involvement, in order to develop other REHAB-LABs worldwide.
The funding provided for this twinning via DigitalHealthEurope was a crucial step to scale up the REHAB-LAB innovation and to make this network a reality in Europe. Kerpape has successfully applied for a second twinning with a completely new set of adopters, which will enlarge the emerging REHAB-LAB-4U community with even more partners, but will also develop a sustainable model towards a resilient European network of integrated health and care fablabs for self-designed 3D printed assistive devices.
More information about the REHAB-LAB-4U twinning can be found here. Details about its continuation with new adopters can be found here.