DigitalHealthEurope (DHE) Twinning "Digital Telecare" provides a comprehensive way to support the transition from analogue to digital telecare services while utilising strategies, business models and resources developed by the twinning partners.
Many European countries still use traditional analogue telecare services. At the same time, the development of new digital technologies means that the analogue infrastructure will be replaced by digital in the coming years. Only a few regions have already fully switched to digital technology, Agder region in Norway being one of them. The DHE twinning "Digital Telecare" has brought together three regions, Andalusia (Spain), Agder (Norway) and Scotland (UK) to share their experiences in digital telecare and to improve their regional strategic plans.
Despite the difficulties and limitations caused by COVID-19, the twinning project has produced several valuable results. During the 10-month twinning period, the partners exchanged knowledge and resources on the main aspects of telecare service delivery. These resources have been later integrated into two twinning outputs and are now available and open for implementation in other European regions.
The first output of the twinning is a strategic Digital Telecare Roadmap, a platform that can be used as an information source for telecare providers which either are in the process of planning to move from analogue to digital telecare services or have already switched to digital telecare and want to maximise the opportunities of the new services. The Roadmap is published on the Technology Enabled Care in Scotland website and is freely accessible for everyone.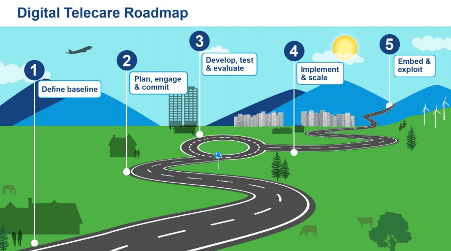 The twinning partners also contributed to the development and design of a Citizen Pathway for Scotland's Digital Telecare Playbook, a digital repository of resources and tools. The Pathway can be used as a guide to supporting telecare service providers to ensure that their services are designed and delivered in a person-centred way.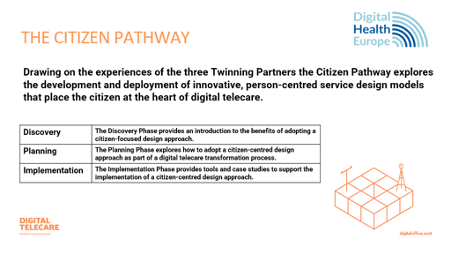 Each of the three twinning partners has made a unique contribution to the project and has already implemented or plans to apply the collaboratively accumulated knowledge in their region. However, the main advantage of the "Digital Telecare" twinning is that it can benefit not only these three regions, but all European stakeholders potentially interested in the development of digital telecare services in their country.